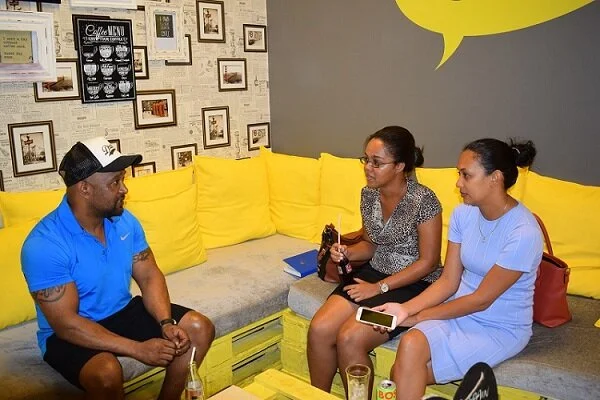 OMG! Chatterbox
As soon as you enter Chatterbox, it feels as if you have set foot in a coffee shop one would typically find in the Western world. The yellow and charcoal gray decor, the inventive use of wood pallets to create the sofa we're sitting on, the quaint photo displays adorning the walls, the minimalist tables and chairs; all these elements combine to create a modern rustic design. And this is exactly what Kirschlee Naidoo, the owner of Chatterbox, wanted to convey. In his own words 'Chatterbox was designed to give Seychellois a taste of what it is like outside of Seychelles without leaving Seychelles'.
Given the buzz it's been making on our social media feeds, particularly Facebook, from the time of its launch up until now, we wanted to meet with the man behind Chatterbox and ask him a few questions.
Could you tell us a bit about yourself, your background and how you came to open Chatterbox?
I'm a sports nutritionist so my background has nothing to do with this. How I came to start Chatterbox, I was very frustrated that there were no coffee shops in Seychelles, because coffee shop culture is the future. Everywhere in the world you go, coffee shops, coffee shops, coffee shops! In Seychelles, everything is either a restaurant, a nightclub or a bar. I had nowhere to take my wife for a coffee and I had some friends come over twice and they told me, 'We like Seychelles and everything, but we can't come to this place. Like where do you go for breakfast? Other than a hotel, where do you have breakfast things?' So it struck me and I told them, 'Next time you come, there's going to be breakfast on the island'. So [my wife] Marsha and I decided, 'Let's open a coffee shop'. So the idea was born. I wanted it for me. And I thought, if I liked it, surely other people who are experts and travel abroad would like it. And that's how the idea came about. As for my background in the restaurant business, I knew nothing and I think that became my advantage. Like 'What would I like to see when I go to a restaurant?' I didn't think like a chef; [for me] if it tastes good, I'm going to put it on a plate whether or not it's right or wrong. I came from the space of a customer. And the whole approach to Chatterbox is looking from the outside in as a customer.
Where did the inspiration for Chatterbox come from and how did you pick the name?
What frustrated me was whenever I saw kids at the dinner table, everyone was on their phones. So I needed a place where people would actually speak to each other and a friend of mine started the Chatterbox in South Africa. I told him 'I love the name, I love the colors, I love the concept. How about I bring this concept to Seychelles'. So that's where the name comes from. For people to actually engage, sit down, relax and speak.
The decor is based on that of your friend's in South Africa?
Yes, I would say it's very similar. What drew me to that, the design, is that we try to be as socially responsible to the environment as possible. We are sitting on the pallets that brought the equipment, we've moved towards glass bottles and we encourage clients to drink from the bottle instead of a glass to limit water wastage.
Even the ingredients used are sourced locally?
Almost everything, except when we cannot find it. As far as possible it's local. We do have a large number of Italian style items on the menu that's not available locally and those are flown in from Italy. The beef comes from South Africa. Other than that, I would say our preference is local and organic; we're trying to support the smaller farmers.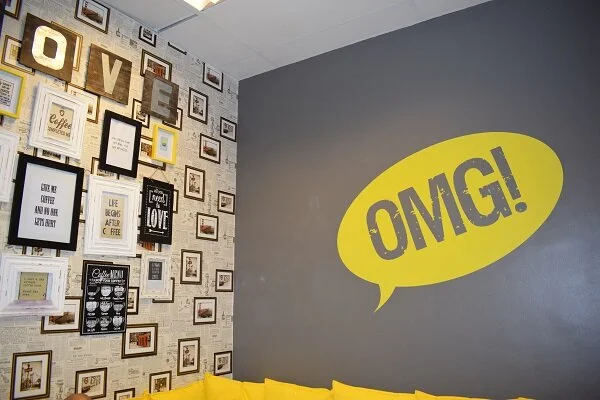 What's the story behind the 'OMG' on the walls?
That OMG is what we want your response to be every time something lands on your table. That should be the response; 'Omg, how am I supposed to eat this?' 'Omg, this is so beautiful'. That should be the response we get out of you when we present our foods.
What's a typical day at Chatterbox like?
A typical day would be, we open up at 8 o'clock in the morning and as for closing, it's either 9 or midnight. Monday to Thursday we open 'til 9pm and weekends we open 'til midnight. An interesting thing about Chatterbox is we have no closing time; if you're sitting we will not close. So if you're here on a Thursday and we close at 9 and you decide to leave at 11, we will not ask you to leave. If you're thinking in terms of clients, on a quiet day like today we do anywhere from about 150 to 250 people for the day. And busy days, usually 400 people.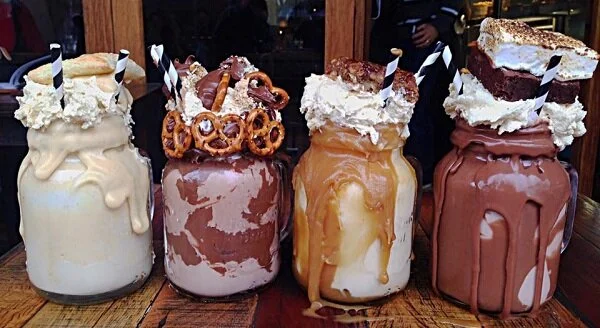 What would you say is the most popular item on your menu?
If you ask me, the most popular item is everything! But I will single it out for you. Our gourmet milkshakes are a hit. I think that is our top selling item. Another one that is really popular is our coffee. Popular in the cold drinks department would be our gourmet milkshake. In hot drinks would be two; our lattes and our cappuccinos. We sell lots of those. Fresh drinks would be the local mango juice we make. Cakes; our carrot cakes. We believe it's the second best carrot cake in the world.
[Laughs] What's the first then?
We don't know. That's why it's second best. So until I've tasted all the cakes on earth, I cannot say it's the best. So it's second best for now.
What is the signature dish of Chatterbox?
I think for most people, when they think of Chatterbox, they would think of the milkshakes. Even though we believe it's our food. Usually people come in for the starter, which would be the pizza and the main course would be the milkshake [Laughs]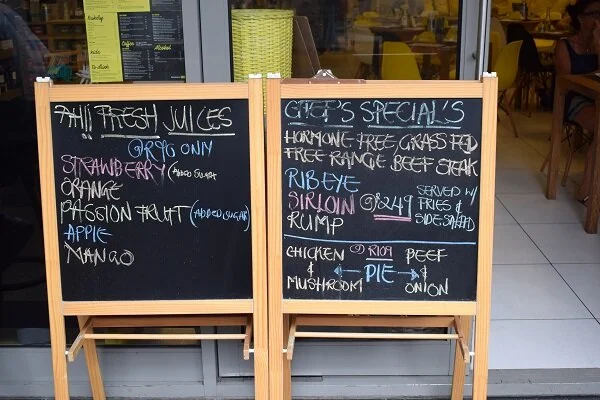 And what would you recommend personally?
Personally, our steak is really good. One of our top sellers that I would recommend to you is our tuna, when available. We do a fantastic tuna carpaccio. Or our Norwegian salmon stacks. These are also very good. It all depends on your preference.
Do you regularly do promotions?
I do. We've run quite a few successful promotions in the past. We did sushi. We did the pizza for a SCR100. Obviously with a lot of the things we did, the promotions were not about making money. You cannot make money if you're selling a pizza for SCR100. We did it to introduce Chatterbox culture to everyone. We are constantly seeking ways to make Chatterbox more affordable to Seychellois. Because it's affordable to everyone who lives on Eden island, but Chatterbox was never for them. Chatterbox was designed to give Seychellois a taste of what it is like outside of Seychelles without leaving Seychelles.  We wanted to create an environment where when you walk in you'll be like 'This is not Seychelles'. We do specials quite frequently. We run specials with Seybrew beers. We've got specials on Seybrew beer every day. When we're busy we tend to bring prices down and always pair foods.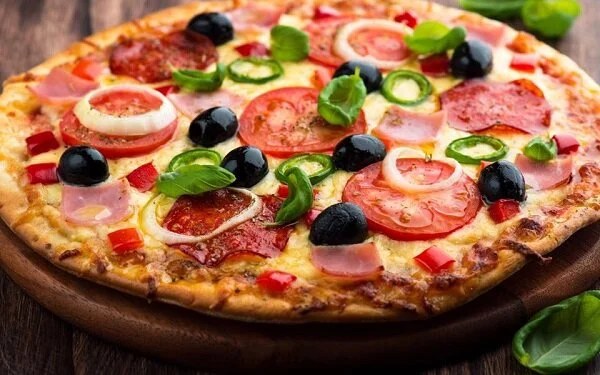 What has been your most successful promotion to date?
The pizza for a SCR100 but I have to say the milkshakes. There are times during the weekends where we are building milkshakes after milkshakes.
How do you keep customers coming in?
Service. I've got a simple belief that when you come in here, you feel like we're real people. We treat you like one of ours. It should feel like home. We have a few things we feel offer value for money. So you're going to come here. We don't want you to leave. We've got a charging station so no excuse to go home to charge your phone. We've got free Wi-Fi; no need to use your data. Our environment/atmosphere plays a huge role. And our staff plays an important role. They get to know you personally by name if you come more than once. They know what you like. Just that personal touch. And then the food. We feel that price is not an indication of the product. You might look at the milkshake and think 'SCR149? That's quite a lot!' But when I bring that milkshake to you, you realise that what you got for your money was your money's worth. We believe in giving you more than your money's worth when you buy something.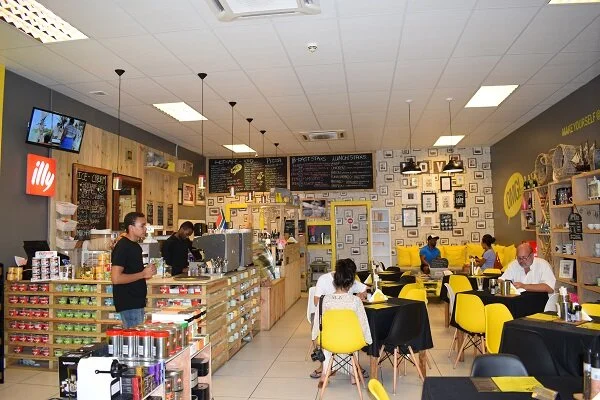 If you could describe Chatterbox in 3 words?
I think the only 3 words for me would be 'Oh my God!' [Laughs]
How do you see Chatterbox progressing?
Chatterbox has progressed so well that the only thing we feel we need to do is keep improving on our product which we already feel is good. We cannot ask for more clients because people have really embraced this product. We cannot ask for anything more. The only thing we believe we can do is give back more; better quality food and better service. As for progressing, I would one day like to see a Chatterbox on La Digue, a Chatterbox on Praslin, in Victoria. I would like to see Chatterbox become even more affordable so that more people can enjoy the product. Within the next 2 to 3 years, definitely we want to open a Chatterbox that is more accessible to Seychellois. While we appreciate the business we get at Eden, this is not an Eden product. This is a Seychellois product.
For more information:
Tel:  +248 2755665
Email:  [email protected]